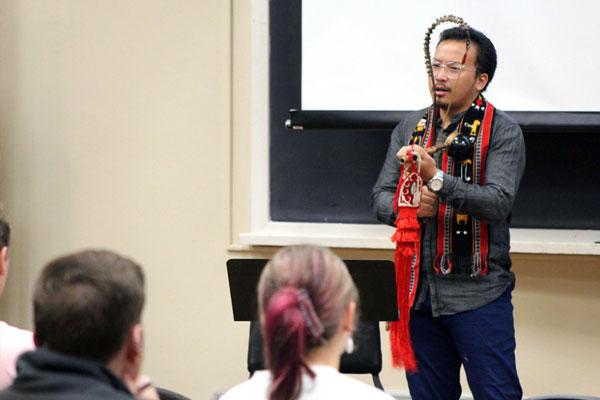 Wednesday, September 14, 2022
UNT's Computational Resource for South Asian Languages Archive (CoRSAL) is pleased to announce its first Archivist in Residence, Marjing Mayanglambam, who is creating an archive of the endangered Pena tradition of Manipur.
Marjing plays the Pena, a mono-string instrument from India's northeastern state of Manipur, where fewer than two hundred people know how to play this ancient instrument. Like a violin and other bowed instruments, the Pena consists of a neck and body and is played with a bow. The body, called a Maru or Tha, is held against the shoulder where a coconut shell, skinned with buffalo or cow hide, and a wooden fingerboard meet a bamboo neck. On the end of the neck hangs a long, decorative textile, called Shamai, that is similar to a garment that a woman might wear along her waist. The curved wooden bow, or Cheijing, resembles a shepherd's hook and captures horsehair strings between the handle and the hook. Brass bells flank the curved exterior, which can be used to produce percussive beats. The amplitude, or loudness, of play is determined by the pressure applied to the Cheijing. Singing often accompanies the instrument. According to the Pena tradition, the Maru (body) represents the mother, and the Cheijing (bow) represents the father. Music is the offspring when the Maru and Cheiging meet.
Music unites the Manipur culture, and playing the Pena is the one of the oldest and most sacred traditions of this region; most religious festivals, rituals, social gatherings, and ceremonies include Pena musicians. Upon returning home from UNT, Marjing will follow in his father's footsteps (also a Pena musician) and will receive the royal attire of a Pena Khongba to wear, called the Mana Phee, from the King of Manipur. "It can be said that the one who receives the Mana Phee is considered one of the highest cultural figures. For me, it's one of the biggest honors I'll receive from the royals," Marjing shares.
Marjing will perform the Pena on September 15, 2022, at 6:30 p.m. at UNT's Music Building Recital Hall Room 301. This event is free and open to the public.
Learn more about CoRSAL and the upcoming events.