Get Involved
The College of Information Student Ambassadors are student volunteers from each department within the College. Students in the program assist College faculty and staff with events, recruiting, and various activities.
Program Benefits
Improving leadership and interpersonal skills
Networking with members of the College and prospective students
Building your resume and gaining professional experience
Opportunity for letters of recommendation
Visibility among members of the UNT community
Team building
Requirements
Must commit to 2 events per semester
Excellent communication and organizational skills
Application
Notice: Applications for 2023-24 are no longer being accepted. Please check back in May 2024.
---
Meet our 2023-24 Student Ambassadors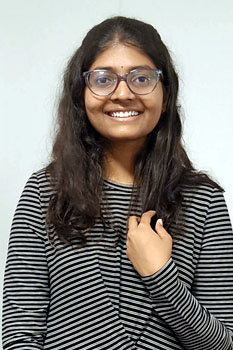 Amulya
I am from India and pursuing my master's degree in data science after finishing an undergraduate degree in electronics and instrument engineering. My hobbies are Travelling, Making crafts, and Gardening. My Research areas include Data analytics and machine Learning. As an ambassador, I would like to help in problem-solving and decision support, Communicating and sharing information, and getting updated with the information which also helps in my personal growth.
Bhavana
I'm a dedicated enthusiast at the intersection of healthcare and technology. Currently, I'm pursuing a Master's degree in Health Informatics, where I'm merging my background in healthcare with my fascination for data and technology. I hold a bachelor's degree in Doctor of Pharmacy (Pharm-D) from India, which has deepened my interest in improving the healthcare field. With a robust foundation in pharmacy and a year of hands-on clinical experience, I've witnessed firsthand the potential of seamlessly integrating health information systems into patient care. This led me to immerse myself in the world of Health Informatics, where I'm eagerly absorbing knowledge about electronic health records, data analytics, and telehealth technologies. Furthermore, my passion for promoting health literacy and patient engagement has driven me to create educational resources that empower individuals to navigate their health journey using digital tools. My goal is to bridge the gap between medical expertise and cutting-edge information systems, ultimately enhancing patient care and clinical outcomes.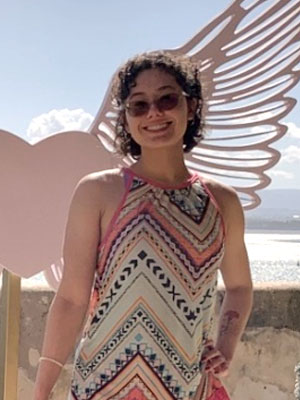 Destiny
Destiny is an undergraduate student majoring in Linguistics. She likes learning and teaching herself different languages, as well as gaining knowledge from those who are fluent in them. She is learning about the structure of language and second language acquisition. She enjoys making new friends and plans to pursue study abroad programs.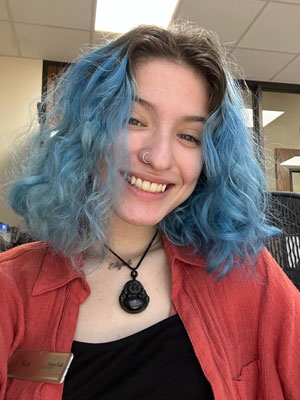 Kai
Hi, my name is Kai! I'm from Houston, Texas and I'm currently studying Information Science for my undergrad at UNT. I'm fluent in American Sign Language and am heavily involved in the Deaf community. I spend most of my free time snuggled up with my cat reading a good book!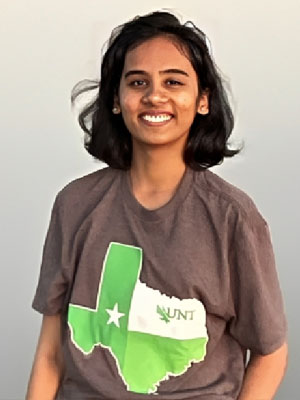 Kamini
Kamini, a dedicated and enthusiastic student of COI with a strong background in information technologies and passion for cutting-edge data industry, will play a pivotal role in representing the College of Information and its values. Committed to academic excellence and with a genuine desire to help others, she will certainly prove to be an invaluable asset to COI. With excellent communication skills and a natural ability to connect with everyone, she will actively represent and promote the college to prospective students, industry professionals, and the wider community. She will actively organize events, workshops, and networking opportunities, ensuring that students have access to valuable resources and connections.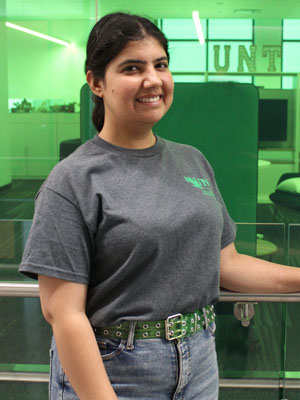 Kinza
Kinza is a doctoral student in the Department of Information Science with a concentration in Linguistics at the University of North Texas, Denton, USA. Her interests are material and non-material heritage preservation of Pakistan's indigenous communities. Kinza is a first-generation student who originally comes from Balochistan (West Pakistan). She loves learning new cultures and languages. Kinza cherishes leadership qualities such as service, commitment, and hard work.
Mounica
Aspiring data scientist with a passion for extracting insights from complex datasets. I am dedicated to leveraging data to drive meaningful decision-making and innovative solutions. I'm thrilled to be a part of the COI Ambassador team and contribute to making a positive difference in our community.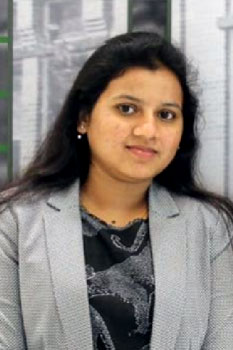 Nayana
Nayana is a Teaching Fellow & a Ph.D. Candidate at the University of North Texas (UNT) majoring in Data Science. She is currently working on her dissertation. Prior to pursuing her Ph.D., Nayana completed her graduate degree in Information Science at UNT and has around 6.5+ years of professional experience working in various roles such as a data analyst, consultant and so on. Outside of work, she enjoys spending time with her family, spending time outdoors, listening to music, baking and reading.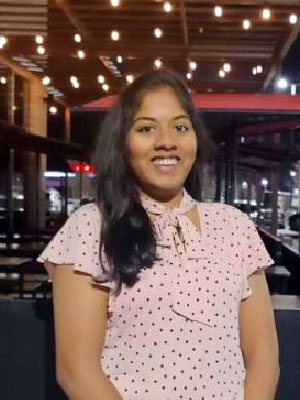 Niharika
Meet Niharika! She's a graduate student from India, specializing in Data Science. Her passion and interest lies in working with data, where she enjoys and has fun in transforming it into valuable insights using the Machine Learning techniques. During her free time, she loves relaxing with adorable pets, mandala art, volunteering, and baking food. Niharika's friendly nature makes her eager to meet new people and discover exciting new places that are peaceful.
Steven
Steven is an online graduate student who is still working full-time as an elected prosecutor in Texas. He has been a district attorney since 1993 with a BA in Journalism (Texas A&M) and MS in Counseling (Creighton University) in addition to his law degree (South Texas College of Law). He is seeking an MS-LS from UNT. Married since 1976, five of his seven children live in Dallas while the other two move constantly because of military obligations. His golf clubs have gathered dust for more than 10 years but he does take his bicycle out on the road at every opportunity.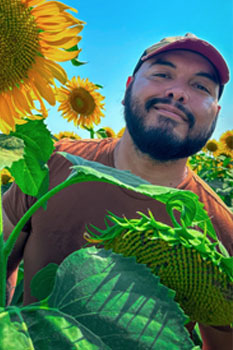 Tom
After obtaining my Associate degree in Computer Science in San Antonio, I am currently pursuing the Learning Technologies program online with UNT. While working as a Project Coordinator for a construction company, I aspire to transition back into the fields of IT or Higher Education, seeking a client/user-facing role. In my free time, I enjoy traveling and honing my photography skills. My ultimate goal is to integrate these passions into my future career, and I am thrilled to be a part of UNT and the College of Information, as these experiences will undoubtedly pave the way for a promising future.