Each semester, thousands of University of North Texas students earn their degrees and become UNT alumni. Every one of them should be tremendously proud of everything they've accomplished in their time in Denton.
In celebration of our COI graduates, below are the highlights of a few of those freshly-minted alumni who overcame adversity and achieved great things on their way to becoming this semester's Great Grads.

---
UNT Great Grads 2022
Sahar Behpour '22
Ph.D. Information Science, Data Science Concentration
Sahar Behpour has always had a desire for turning theories into applications and thoughts into actions.
Beginning her academic career as a physics Ph.D. candidate in 2017, she encountered research problems that were purely theoretical.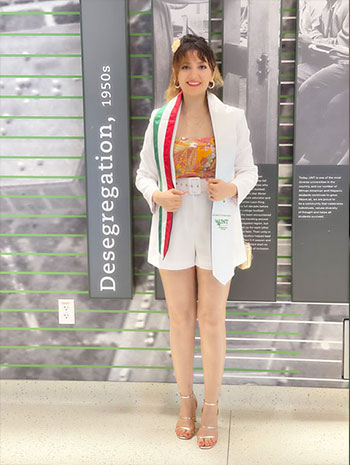 "How can I contribute more to application-based problems, or the data driven and universal approaches to solve the real problems in different domains such as healthcare, legal, finance, and social media?" Sahar asked herself. This was the genesis of her passion for data science. So, she made the degree switch from physics to data science.
After taking a machine learning course with Mark Albert, assistant professor of biomedical engineering, Sahar realized her strong interest in developing data driven, robust and universal artificial intelligence models that can work across different domains and datasets.
Working with her supervisor, Albert, who also has a background in computational neuroscience and computer science, Sahar began to investigate the sensory information processing in the brain— especially visual information so the computer will be able to learn things and make decisions in a humanlike manner.
While studying the visual information processing in the brain, also known as efficient coding, Sahar wondered, "how can we use similar processes when making artificial neuron networks?" From this inquiry, Sahar chose her dissertation topic: weight initialization of convolutional neural networking using unsupervised machine learning.
With each research discovery and focus, it leads Sahar to her ultimate goal of becoming a leader in the artificial intelligence field. Sahar hopes to create different infostructures to analyze data and models to provide a diverse set of services for the greater community.
"My goal is to not just make a profit for my business," Sahar says, "but to be a resource for creating and improving science."
Her dreams were allowed to flourish at UNT through the nurturing nature of the staff and faculty who encouraged her and assured her that she will be successful in this field.
"When I first walked into the information science department, Sahar called her family and said, 'These people are so nice, I feel attached already!'"
As she gets closer to her goal, Sahar credits her accomplishments to her mentors and support system.
"Dr. Mark V. Albert taught me the fundamentals of machine learning and deep learning through his interactive and productive class and made me even more motivated to choose a dissertation topic in this direction. He showed me how to design and conduct a project from scratch while focusing on intuitions, writing succinctly, creating nice visualizations as part of any project, and finally delivering it at the right time. I have been greatly inspired by and benefited from his time management, professional communication, and leadership skills. Dr. Hawamdeh supported me throughout my whole Ph.D. journey. Dr. Paolo Grigolini constantly motivated me in research and making me more interested in science by sharing his in-depth knowledge every time I raised questions to him."
Republished from UNT Great Grads: Spring 2022
Tetyana Kucher '22
Ph.D. Learning Technologies

Going into the final semester of her Ph.D. journey, Tetyana Kucher was looking forward to the future. Her dissertation on using virtual reality to teach foreign languages was strong and she already had a job she was excited about continuing after commencement.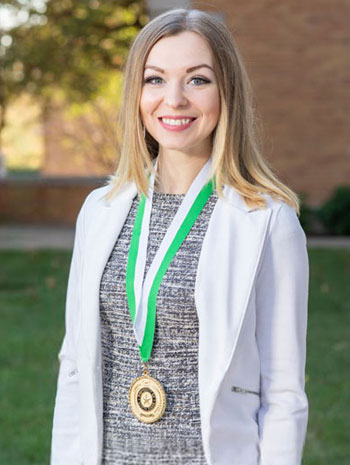 Then, on Feb. 24, 2022, Russia invaded Ukraine. Tetyana spent two weeks unable to do anything, constantly searching for any new update and waiting to hear from her family, still in Ukraine.
One of her professors, originally from Poland and still in possession of a home there, offered Tetyana's mother a place to stay and helped Tetyana arrange for her mom to leave Ukraine for Poland. Her father and brother stayed to fight for their country.

"I was just constantly thinking, 'nothing is important right now, nothing makes sense, nothing is even worth thinking about, and everything is stupid compared to what's happening in Ukraine,'" she says. "The war started during the time when I was doing the final touches on my dissertation, finishing my last paper and preparing to present all my work."

Due to the circumstances, she was given the opportunity to submit her dissertation late, moving her graduation to the end of the summer, which traditionally doesn't offer a ceremony. Despite the change being a less stressful, easier option, she wanted to push forward with graduating in Spring 2022, with all the ceremony.

"Doing this for years felt like such a big journey that I did want to celebrate by having commencement," Tetyana says. "My family can't attend, but they'd love to be there, so at least I can show them photos. It felt like it would be very underwhelming if it happened in the summer."

Her journey started with learning English in school and then earning a degree in teaching English as a foreign language at the Vinnytsia State Pedagogical University in Ukraine . When her university in Vinnytsia established a partnership with Southeast Missouri State University and offered a dual-master's degree, she decided to move to Missouri. A few years later, she decided to pursue her Ph.D. at UNT, focusing her research on using virtual reality in language learning.
Throughout her college and professional career, she has taught English as a foreign language, largely working with international students in the U.S. As she started working on her Ph.D. in education, focusing on curriculum and development, the College of Information Learning Technologies department drew her interest, especially their work in virtual reality as a teaching tool. Tetyana chose to earn her Ph.D. in learning technologies.

"It makes sense to learn languages in virtual reality, because we can get connected with other people without the geographical constraints. Not a lot of research has been done in this area, which was surprising to me," Tetyana says.
COVID offered several challenges because implementing VR in classrooms, part of her original project design, required in-person interactions. With the help of professors Lin Lin and Regina Kaplan-Rakowski, she shifted her focus to exploring current literature on the topic and analyzing existing datasets.

"Dr. Lin was my academic advisor and she always cared about my success," Tetyana says. "She always made me feel like I was valued, not only as a researcher, but as an equal, rather than simply being a student. Dr. Kaplan-Rakowski has become a great mentor for me. When we met, we instantly connected. Whenever I found myself in doubt, she would be there to offer her support and advice. We collaborated on numerous projects together and spent countless hours talking them out over the phone. Having opportunities to work with her was such a blessing."

That support has pushed her to earn her Ph.D. and other awards including 1st place in the Three Minute Thesis competition and departmental recognitions.

She says that the biggest thing she learned is that it's okay to realize that your initial plan isn't the right path anymore because you've grown as a person and what you're passionate about has evolved.

"Earning a Ph.D. is such a journey," she says. "I was always thinking, 'what excites me?' I think that it's important to acknowledge that by the end, you're probably going to be a different person."

Republished from UNT Great Grads: Spring 2022

---

COI Great Grads 2022
Julia Penick '22
B.A. Linguistics
Julia Penick graduates with a B.A. in Linguistics and reflects on what she's learned about the study of language while at COI: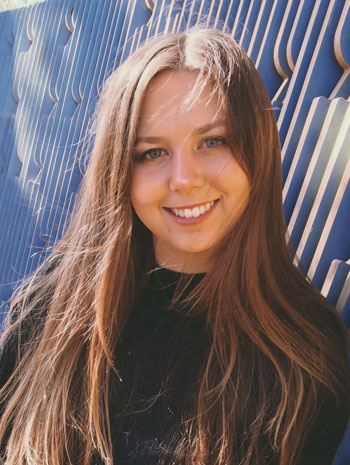 Over the past four years, I've learned so much about language and how it works. COI linguistics courses inspired me to study as many foreign languages as possible, including French, Russian, Japanese, and Chinese. The concepts I learned from phonology, morphology, and syntax helped me understand these languages on a deeper level. This past year, I was thrilled to work on my capstone project with Professor Katie Crowder. She walked me through every step of the process, encouraged me to think deeper, and gave crucial advice whenever I struggled. I want to thank her for her efforts to help me succeed! Above all, I gained confidence in my academic abilities, which I will take in the next steps of my career. My advice for current students is to choose electives and project topics that you love, not those you think are the easiest. If you're excited about what you're doing, you will learn so much more.
Katie Crowder, Principal Lecturer in the Department of Linguistics, adds, "Julia is an outstanding undergraduate student, maintains a high GPA, and studies multiple languages while keeping up with her course load. Julia readily tackles challenging topics for research, never taking the path of least resistance but always embracing formidable projects because she genuinely wants to explore uncharted territory in linguistics."
Julia currently seeks a career in publishing while she works towards her dream of becoming a novelist.
Connect with Julia on LinkedIn.
Shwetha Guthikonda '22
M.S. Information Science with a concentration in Health Informatics
Shwetha Guthikonda had a full-ride scholarship to medical school in India but decided to pursue her passion for medical technologies instead. Transitioning from a medical to a non-medical degree and a new country and culture has been challenging for Shwetha. She adds, "I will always be proud of what I am doing now and all the hardships I faced. I want to serve the health field by working on new innovations. I learned practical and useful skills in information technology and the medical field while at COI."
Shwetha is grateful to have received the Ana D. & Donald B. Cleveland Medical Informatics Endowed Scholarship. "This has reduced a lot of burden on my financial status and helped me concentrate on my studies without too much stress thinking about the cost," Shwetha adds.
Haihua Chen '22
Ph.D. Data Science

Throughout his four and half years in the Data Science Doctoral Program, Haihua Chen has co-authored more than 30 peer-reviewed articles, delivered more than 20 academic presentations, and reviewed more than 100 articles for 20 international journals and conferences. In return, he received The Dewey E. Carroll Graduate Fellowship Award in 2020 and The Mark E. Rorvig Endowed Graduate Fellowship Award in 2019. Haihua was also nominated as the outstanding reviewer for The Electronic Library in 2019.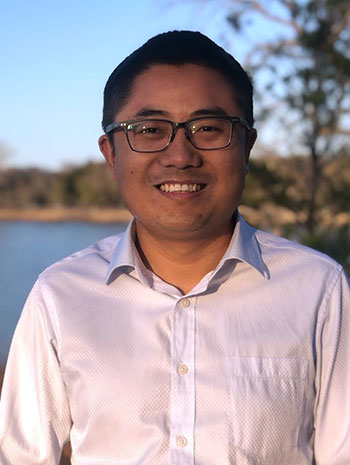 "Studying for a doctorate is a long and arduous journey. Everything is more challenging as an international student. However, the College of Information has been like a home, which is so supportive and caring. When I look back on this journey, countless memories come to mind. From Dr. Daniella Smith's weekly conversations with Ph.D. students to feedback and advice from Dr. Kinshuk, Dr. Yunfei Du, Dr. Lingzi Hong, and Dr. Heejun Kim when I was on the job market. I appreciate them very much," Haihua shares.

"My dream is to be a successful professor like Dr. Ana Cleveland, Dr. Jiangping Chen, and Dr. Junhua Ding. They have been so supportive and encouraging to me, no matter the milestones or difficulties. I learned their rigorous academic attitude, responsibility to students, and dedication to the department, which has been so inspiring for me," Haihua adds.
Dr. Daniella Smith shares, "Haihua Chen is one of the most impressive students that I have met since serving as the Director of the Information Science Ph.D. program. During his time as a Ph.D. student, he has co-authored more than 20 research publications that intersect the fields of Information Science and Computer Science. Haihua served as the first vice-president of the UNT Data Science Organization and was instrumental in founding the organization.
As a Teaching Fellow, he taught three classes and meticulously developed materials to assist the students with understanding data science concepts. While pursuing his Ph.D., he spent numerous hours working in the Intelligent Information Access Lab in the Department of Information Science.
Haihua is always available to collaborate with faculty members, often serves as a research consultant, and mentors other students. He has served in various capacities on funded research projects for the National Science Foundation, the National Security Agency, the National Institutes of Health, and more. Haihua also has been proactive in receiving funding from Amazon to support his research projects.
He is an all-around success story and a pleasure to be around. I have never seen him without a smile on his face. I am so proud that he is a graduate of our program, and I am confident that he will go on to do even greater things," she says.
Haihua's research interests include Applied Data Science, Data Quality, Information Retrieval, Natural Language Processing, Text Mining, Legal Artificial Intelligence, and Health Informatics, and has accepted a position at COI as a Clinical Assistant Professor in Data Science.
Erik Wright '22
Ph.D. Learning Technologies
Erik Wright will graduate this month with a Ph.D. in Learning Technologies. Research interests include Organizational Culture, National Culture, Human Resources Development, Leadership, Workforce Engagement, Job Satisfaction, and Employee Training and Development. Recently, Erik shared his thoughts about his COI experience: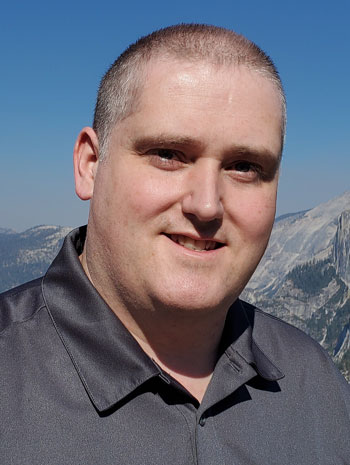 During the course of my studies at COI, I have been able to advance my knowledge and understanding of Human Resource Development practices. I have learned a great deal about how to create programs that meet the learning and development needs of a diverse adult workforce. These skills are extremely valuable in my career and set me apart from other HR professionals.
I have had tremendous support from the Applied Technology and Performance Improvement (ATPI) and Learning Technologies faculty, including an amazing amount of support from my Doctoral Committee member Dr. Rose Baker. She has been with me through thick and thin, and I owe a great deal of my success to her. Other faculty from the former ATPI program are also instrumental in my success, specifically Dr. Jeff Allen and Dr. John Turner. I cannot thank them enough for their support. And of course, the dedication and support of my Doctoral committee (Dr. Lee, Dr. Spector, Dr. Baker, and Dr. Gavrilova Aguilar) are key to my lifelong dream of completing my doctorate.
My advice to those entering their program: even though roadblocks may appear, don't give up! Rely on your faculty to help you navigate around them. They are there to help and have a wealth of knowledge. Then when you get that degree, make sure to say thank you!
Dr. Rose Baker, Learning Technologies Associate Professor and Director of the BAS Program, shares, "Erik never gave up working to obtain his degree even in the face of adversity. After a year of working with a company, the pandemic caused massive changes to the workforce, and the survey distribution yielded no usable data. Erik was resourceful and proposed a different data source that resulted in a finished dissertation with useful outcomes to inform workforce hiring practices."
Erik's post-graduation plans are to continue in the Human Resources Development field and pursue consulting opportunities in business and leadership development. Erik also looks forward to teaching the next generation of HR management professionals and seeks opportunities to become university faculty.

Iram Fatima '22
M.S. Information Science with a concentration in Health Informatics
Iram Fatima began graduate school during the pandemic, which provided an unexpected challenge for someone who thrives on in-person classes and activities. She used this opportunity to attend virtual conferences, meet instructors virtually, and join student organizations (Iram currently serves as the President of UNT Library and Information Sciences Student Association- LISSA). As a Teaching Assistant and an international student, she also sought additional research opportunities. "Iram shows diligence in the face of difficulty and rises above others to shine. For four successful semesters, she found and utilized resources offered by UNT to hone her skills and experience grad school to the fullest despite the challenges of the pandemic," adds Lisa Hollinger, COI Assistant Director of Marketing.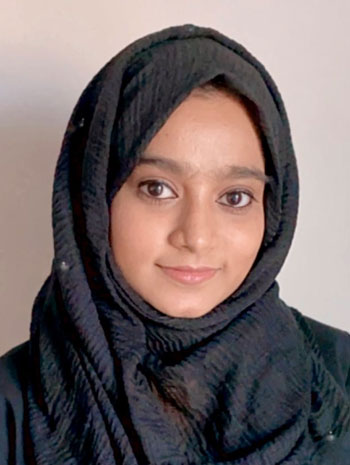 Iram reflects upon her graduate school experience and shares, "I am proud to have secured a TA position at the beginning of my graduate studies and received the prestigious Margaret Irby Nichols Endowed Scholarship. I was also awarded the LIS Fall Development Award from the National Library of Medicine during my first semester.
I want to express my appreciation for Dr. Ana Cleveland and Dr. Jodi Philbrick. As their TA, I value the opportunity to work closely with them and learn from their expertise. They have continuously provided conference and research opportunities, scholarship recommendations, and even an internship. In preparing for a talk at the South Central Chapter of the Medical Library Association Conference, they supported me in every way possible, guiding me to deliver a quality presentation. I am forever grateful to them for their constant support and encouragement.
My advice for other students is to reach out to instructors. COI has amazing staff and professors, and they really care about student success! They are never judgmental and are always ready to help in every way possible. So, reach out when you need any help or have questions. I am very thankful to everyone who has supported me in my journey at UNT!"
Iram graduates with an M.S. in Information Science with a concentration in Health Informatics and will begin a new position as a Junior Health Data Analyst this June.

Caroline Moore '22
M.S. Library Science
Caroline Moore is a part-time Assistant Archivist at UNT Libraries Special Collections and a full-time student studying Library Science with a concentration in Archival Studies and Imaging Technology. In reflecting upon her graduate school career and upcoming graduation, Caroline shares: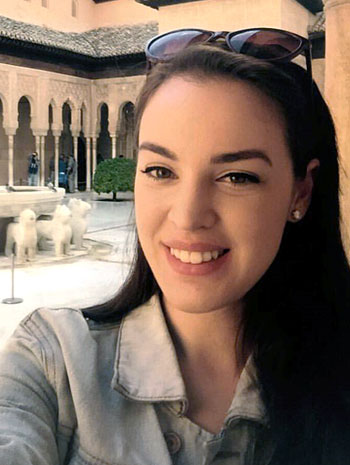 As a College of Information graduate student, I have learned how to make the most out of my graduate school career, including attending conferences, joining organizations, and working first-hand in my prospective field. I had the opportunity to gain experience with unique and fascinating materials as a student Archival Assistant in the UNT Libraries Special Collections department. I have processed and produced finding aids for a variety of collections such as the Fran Vick Collection, Grant Advertising, Inc. Dr. Pepper Campaign Collection, the second accrual to the Rudolph "Rudi" Fuchs Holiday Card Collection, Steven Fromholz Papers, NaDeane Anderson Walker Papers, UNT Commencement Recordings, James Flowers Collection of Found Ephemera Found in Returned Library Books, and the UNT Department of Dance and Theatre Records, among other university administration records. These collections are available for anyone to access on the UNT Special Collections Finding Aid and The Portal to Texas History sites. Fully immersing myself in my studies and my prospective field as a full-time student and honing my technical skills have allowed me to learn so much more than I could have ever imagined in a short time (and during a pandemic). Overall, I have learned through this two-year process that I have boundless potential and resilience. The faculty and staff at UNT helped establish my confidence and ensure my growth and success as a new professional in the library and information science field with their limitless knowledge and resources. During the Master of Science in Library Science, Archival Studies, and Imaging Technology program, my studies have shaped me as a more informed, experienced, and knowledgeable professional.
I want to thank Austin Hammond for his more than commendable role as my graduate advisor. I met Austin at the Graduate School Preview Day and was sold on the idea of pursuing a Master of Science degree at UNT because of his passion for and knowledge of the program's faculty, staff, coursework, and opportunities. Once I became a student in the program, Austin was my advisor and helped me devise a plan to graduate with my degree and two Graduate Academic Certificates. Austin's expertise with the courses and coursework provided me with the best possible course of action to curate a balanced set of semesters. I would also like to highlight the UNT Library and Information Science Student Association (LISSA). By joining LISSA, I developed meaningful connections with professionals in the field and other graduate students in the program.
My words of advice for prospective or current students are to try to dedicate time beyond your studies to join organizations and attend conferences and webinars. I learned about many opportunities by connecting with student and professional organizations; networking and meeting others in your field of study are incredibly valuable and beneficial. Similarly, reach out to your professors and professionals in your field, ask questions, and schedule informational interviews. You'll learn a lot and demonstrate that you are genuinely interested and passionate about your studies. Lastly, apply, apply, apply to all of the scholarship opportunities at the College of Information and through professional organizations. During my first semester, I was awarded the College of Information Library and Information Science (LISC) Excellence Scholarship and the Margaret Irby Nichols Endowed Scholarship my second semester. I also received two awards from the Society of Southwest Archivists (SSA), which helped offset costs, including tuition, books, organization membership dues, and conference registration fees.
Lisa Hollinger, COI Assistant Director of Marketing, adds, "Caroline is a true academic. She recently collaborated on the UNT Special Collections digital exhibit Every Book(mark) Has a Story: Explorations in the James Flowers Collection of Ephemera Found in Returned Library Books, on view now. Associated with this exhibit, Caroline taught a UNT continuing education course and will present research about this collection at the Society of Southwest Archivist's conference this May. She is a remarkable student with a bright future ahead!"
Caroline looks forward to beginning her next chapter in archival and collections management and is currently searching for a full-time position. She is excited to connect with the College of Information as an alumnus to contribute to and help grow the UNT Library and Information Science network.
Connect with Caroline on LinkedIn.
Jonah Turner '22
B.S. Data Science
Jonah Turner graduates with a B.S. in Data Science this month and recently shared highlights of his time at COI and advice for current and prospective students: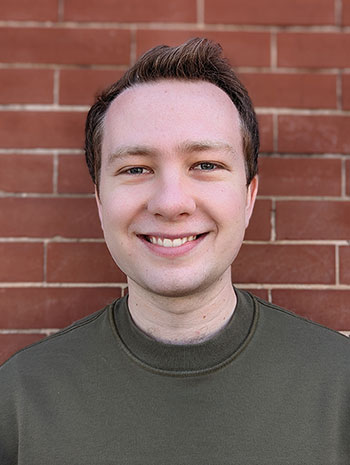 I have had a great experience at COI and have developed skills in Python, SQL, Tableau, R, and RapidMiner. I have also developed communication and collaboration skills by working with other dedicated COI students on group projects.

During the summer of 2019, I was fortunate to work with Dr. Ding and Dr. Chen on a National Science Foundation REU. I am exceptionally grateful for the opportunity to work under and learn from them so early in my data science studies.

I am also grateful to have had Ms. Blanca Hull as my undergraduate advisor. She helped me realize my dream of studying abroad in France and helped me get the most out of my degree.

My advice to prospective and current students is to complement the COI curriculum with your own studies and interests. There are many free resources to enhance your learning - textbooks on machine learning, data science frameworks, and important languages like Python and R. Do not stop learning when you leave the classroom.
Blanca Hull, Jonah's advisor, shares, "I have had the privilege to advise Jonah for the past two years at COI. I can honestly say that he is one of the most dedicated students I have ever worked with; Jonah is serious about his academics and has a passion for learning. Jonah is an excellent example of a University of North Texas graduate."
Jonah seeks full-time employment as a Data Scientist and plans to pursue graduate work in the near future.
Connect with Jonah on LinkedIn.
Fall 2021

Taylor Jay

When asked what her greatest challenge has been and why she should be a great grad, Taylor answers,

"I believe my greatest challenge has been my battle with mental health. I am a survivor of sexual assault and have struggled with depression for years. I transferred to UNT from a Junior College in Northern California in 2019 to be closer to my mother after she was diagnosed with breast cancer in 2018. From the beginning of her cancer journey, we knew her type of cancer was terminal and that she might not have much time left. My first thought was that I needed to drop out of school to spend time with her and help get her to and from doctor's appointments, but mom would never let that happen. She told everyone she came in contact with that her only goal was to live long enough to see me graduate, so naturally, I took as many classes as I could handle and drove 10 hours round-trip home on weekends to make it all work. Although we lost her this July, and she will not see me walk across the stage, I am determined to make it there. Losing my mother in addition to my fight with depression has made school challenging but I am a firm believer that your life is yours and you are the only one who gets to decide what you do with it.

I had been to 3 other colleges before transferring to UNT and had started to believe that maybe college just wasn't for me. From the start of my first class in 2019 to fall 2021 in my last semester, I have felt right at home. I would not have made it to Graduation without the encouragement and support from my professors and family. I will always be thankful for my time at UNT. After graduation I plan on attending graduate school to continue my studies in sociolinguistics.

Also, I am a tutor at the Student Athlete Academic center and will be graduating cum laude!"

Read more on Taylor Jay's Great Grad story

---

Nominees

Priyanka Kotha

Read more on Priyanka's Scholarship Story of Gratitude

Ana Roeschley

Ana brought the highest standards of excellence to everything she undertook when she joined our doctoral program in Fall 2016. She has a strong passion for research in archival sciences, and her research efforts have produced a number of co-authored and sole-authored peer-reviewed publications and presentations. As a teaching assistant in our department, Ana models professionalism, accessibility, and empathy. Her conscientious instruction and helpful demeanor are frequently noted on our course evaluations.

Above all, Ana has honed and demonstrated her leadership skills. As president of UNT's ASIS&T Student Chapter, she coordinated a number of events, including MIRS (Multi-disciplinary Information Research Symposium), and successfully executed the most successful years of the student chapter. This helped UNT win the 2018 and 2019 ASIS&T Student Chapter of the Year Award and the 2019 UNT Eagle Award Outstanding Student Organization Event Award.

Ana was selected as a New Leader for the ASIS&T from an application pool of highly qualified candidates. For this New Leader program, Ana served with the ASIS&T Arts and Humanities Special Interest Group (SIG/AH) during her two-year service. She was also the recipient of the Student Engagement Award, offered by the ASIS&T Special Interest Group – Digital Libraries (SIG/DL).

Ana was certainly a wonderful addition to our Ph.D. program. Her positive spirit makes all her interactions with peers and faculty affirmative and enjoyable.

Ana is currently an Assistant Professor of Professional Practice in the School of Library & Information Science at Louisiana State University.