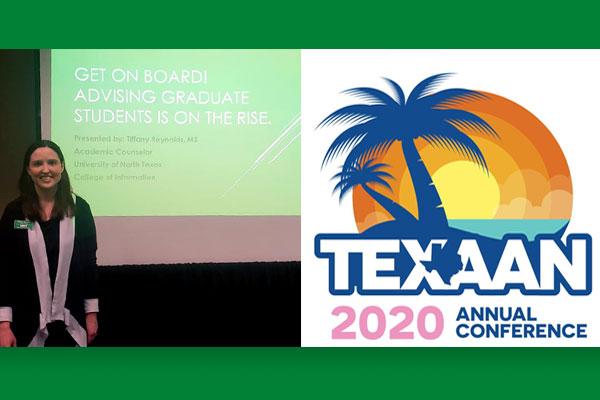 Academic advisors in the College of Information also focus on the care of our students during matriculation. Tiffany Reynolds, an academic advisor in the college, recently led a session during a statewide conference hosted by the TEXAAN (Texas Academic Advising Network).
At the convention she called on other advisors to think about making the transition from helping undergraduate students to students seeking advanced degrees. Reynolds encouraged attendees to "get on board" with advising graduate students. Before working with our graduate students, Reynolds worked with undergrads at UNT and Collin College. She says that advisors often don't consider graduate advising simply because of a lack of previous experience with them. "The reason that I presented on this topic is that graduate advising is not as common as undergraduate advising and I wanted to talk about what it is like to advise graduate students both in-person and online," says Reynolds.
According to Reynolds the profession of Academic Advising seems to be continually redefining itself throughout the years. "Attending concurrent sessions that is related to my career allows me to learn about different ways to best serve the students within my profession and specifically within the College of Information," says Reynolds.
She also sees presenting at the conference as an opportunity to give back to the advising community.
"Networking with advisors across Texas allows for me and other advisors to form connections with people that do the same work but may have different responsibilities and have new or fresh ideas within the advising profession," says Reynolds.
The TEXAAN (Texas Academic Advising Network) Conference was held in South Padre Island, TX from February 26th-29th. For additional conference information, visit their website https://texaan.org/Annual-Conference.