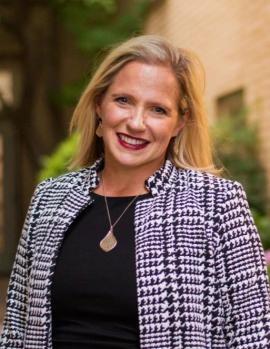 The College of Information is proud to highlight an alumna from the Department of Information Science
Dr. Tara Zimmerman graduated from the University of North Texas, College of Information in August of 2020 with a Ph.D. in Information Science. She was drawn to this degree plan due to its interdisciplinary nature, citing it as the strength of the program. Rather than being a deep dive into one limited area, the program integrates ideas from many fields, which she believes enriches the learning process. While in the department, Tara was honored with the Linda Schamber Writing Award (2019).

Tara already held an M.S. in Library and Information studies and had worked as a public-school librarian for eight years. She had been involved in the human side of information seeking behavior but became interested in exploring an information focus, leading to her dissertation work, "Research on Information Behavior of Social Media Users." In her exploration, she found that social media users are bombarded with many types of messages, such as political or health related information, and that being observed by the friends, family, and co-workers in their social networks influenced how they responded to this information. She sought to further examine this phenomenon, for which she coined the term social noise.

Since she graduated at the height of the pandemic, there weren't many job opportunities available. However, that didn't stop Tara from applying for and being awarded the coveted Computing Institute Post-Doctoral Research Fellowship, funded by the National Science Foundation, for a two-year span. This position at the University of Texas has allowed Tara to broaden her research endeavors, get experience in the field, and increase her opportunities to publish. Since she is passionate about research, this position has fit her perfectly. Now in her second year of the grant period, her goal is to obtain a tenure-track assistant professorship in the department of information science at a respected university.

When asked about her best memories of her time in the College of Information, Tara says that being invited to be on a research team with Dr. Jeff Allen had the most profound impact on her development as a researcher. Being a member of the research team allowed her to collaborate on a series of papers for journals and conference proceedings, learning about the submission, revision, and resubmission process which was invaluable to her as a researcher. It's clear that these experiences have impacted her greatly as she is a prolific author of journal articles, conference proceedings, and a book chapter as well as an experienced presenter at national and international conferences.

We wish our distinguished alumna, Dr. Tara Zimmerman, continued success in her career!