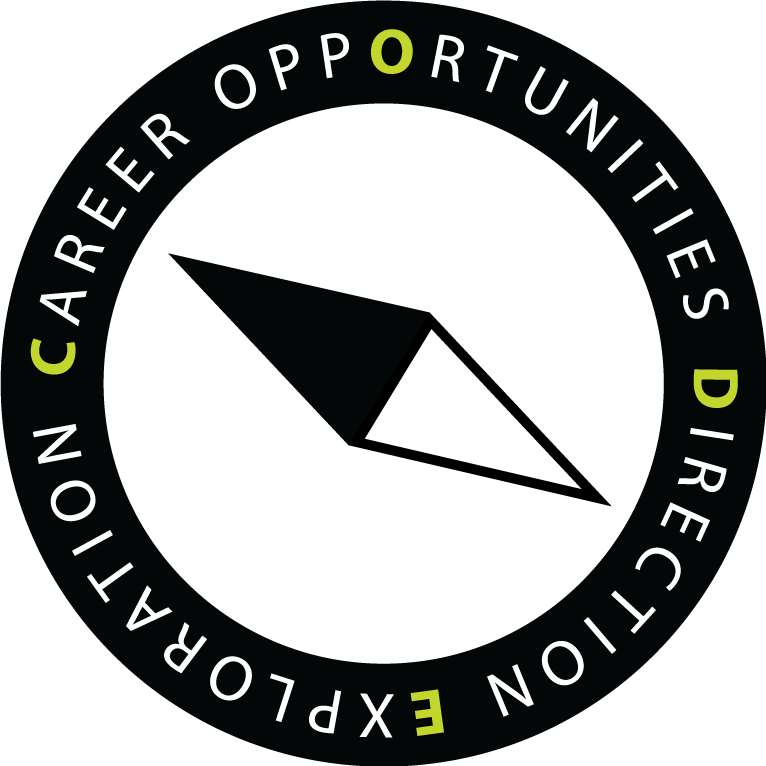 The Career Opportunities Direction Exploration (CODE) is a series dedicated to connecting alumni and industry professionals with current students. The collaboration between the College of Information, the three COI departments, and the UNT Career Center is designed to help students explore professions in their field of study. Each semester will feature panelists who will focus on careers in each of our three areas of study.
Current Events
---
October 11, 2022 at 11:00 a.m. (CST) - Tisha Poncio
Abstract: Tisha will discuss her journey from the classroom to industry and how her education in Learning Technologies has helped her accomplish her goals. Then she will give an overview of the company where she works to showcase Wakelet's digital resources for classroom teachers and company culture.
Bio: Tisha Poncio, M.S. Learning Technologies, served in public education for 21 years as a classroom teacher and a digital learning specialist. She has presented at numerous educational technology conferences across the nation and in her home state of Texas speaking about student leadership, student autonomy, digital citizenship for all ages, and meaningful technology integration. She is currently serving as a Digital Learning Specialist for Wakelet!
---
November 1, 2022 at 10:00 a.m. (CST) - Dr. Christopher Hokamp
Abstract: Dr. Christopher Hokamp will be interviewed on the process of building products with natural language processing technologies, his background as both a linguist and a scientist, the path that he followed to arrive at this career, how he meshes his skills and passions into his current role, and the opportunities he took ahold of along the way. He will also demonstrate some of the products and tools they are currently working on for a birds eye view into cutting edge technology.
Bio: Dr. Christopher Hokamp is currently a Principal Applied Scientist at Aylien Labs in Dublin Ireland, where he leads a research and development team, designs and implements timeseries analysis and detection models, and leads prototyping and implementation of knowledge graph and entity linking systems. His vast experience and varied background include studies in music, German literature, linguistics (UNT 2013), and computer science. He has worked as a teacher, researcher, engineer, and technology designer in the area of machine translation and has studied or worked in the United States, Turkey, Portugal, and Ireland.
Kristy Phillips is a PhD student in Information Science with a concentration in Linguistics. Kristy has a BS in Computer Science and an MS in Interdisciplinary Studies with a focus in Computational Linguistics. Kristy's research focuses on building computational tools for low-resource languages and bias in machine learning.
---
November 4, 2022 at 1:00 p.m. (CST) - Company Connect: Mary Kay
Company Profile: Mary Kay is committed to enriching the lives of women and their families around the world. Come learn more about our global skincare company, headquartered right here in DFW. This session is specifically about Data Management, a core group of our Global Supply Chain. The Data Management team manages and governs the data that drives our supply chain functions from end to end. The team is solely responsible for the maintenance and centralization of product data resulting in a single source of truth. We cannot wait to speak to prospective students and showcase how our hands-on internship can empower students to achieve their potential!
---
November 17, 2022 at 11:00 a.m. (CST) - Dr. Norman Howden
Abstract: In this session Dr. Norman Howden will dip into his experience as a director in both special and academic/community college libraries to discuss the challenges, opportunities, and advancement tips that help prepare students to move through a successful career in these types of libraries.
Bio: Dr. Norman Howden is an academic information specialist who retired recently (2021) after directing the library at El Centro Community College. Norm's educational background includes degrees from the University of Missouri Columbia and from Case Western Reserve University. He has served as founding director of a marine science library at LSU, taught at Louisiana State University, University of North Texas, and the University of Missouri. His Interests include applying new technology, library operations and organization, and library safety. He directed and installed the first LAN in the Library School at UNT. Over the years he has worked with acquisition and operation of local area networks, pay for print solutions, email systems, and electronic database resources. Most recently he was the key instigator to move Dallas College into implementing a learning commons concept.
---
2022
September 20, 2022 at 11:00 a.m. (CST) - Liz Philippi
Speaker: Liz Philippi, School Program Coordinator at Texas State Library and Archives Commission
Topic: Adventures in School Libraries
Interviewer: Ruchi Shewade, Information Science Ph.D. Student
Abstract: A 2003 UNT M.S. Library Science alumna and an Advanced Management in Libraries Certificate holder (2007), Liz Philippi will share her experience working in libraries and with libraries across the state, including managing the library services for an entire district and helping to write and institute Texas School Library Standards (TAC, 2018). She will also discuss her service in the American Library Association and various roles in the Texas Library Association.
Bio: Liz Philippi has worked as a school librarian for 30+ years, and she has worked at elementary and secondary campuses. Most recently she worked as the library systems administrator in Spring Branch ISD, and as the Manager of Library Services in Houston ISD. She has also worked in various states including, Texas, Tennessee, and Louisiana. Currently she works at the Texas State Library on the State School Library Program Standards, TexQuest K-12 Electronic Resources, ESSA issues, and helping school librarians all over the state of Texas.
---
April 7, 2022 at 11:00 a.m. (CST) - Sowmya Vajjala
Speaker: Sowmya Vajjala, Research Officer, National Research Council, Canada
Topic: An Interview with a Computational Linguist by Kristy Phillips, Information Science Ph.D. Student
Abstract: Computational Linguistics is an inter-disciplinary field focused on developing computational models of human language processing, comprehension, and production. In some variation or the other, it is a part of our day-to-day life, in the form of email and office software, our smart phones etc. In this interview, we will discuss what a career path in computational linguistics looks like, focusing on its relevance in the age of data science. She will also share her personal journey in computational linguistics, as a student, software engineer, researcher, academic and a data scientist. Finally, we will share a brief overview of how to get into computational linguistics before even getting into a college degree in the field!
Bio: Sowmya Vajjala currently works as a researcher in Digital Technologies at National Research Council, Canada's largest federal research and development organization. She has worked in the area of Natural Language Processing (NLP) over the past decade in various roles – as a software developer, researcher, educator, and a senior data scientist. She recently co-authored a book: "Practical Natural Language Processing: A Comprehensive Guide to Building Real World NLP Systems", published by O'Reilly Media (June, 2020), which was also translated into Chinese. Her research interests lie in multilingual computing and the relevance of NLP beyond research both in industry practice as well as in other disciplines, through inter-disciplinary research.
Bio: Kristy Phillips is a PhD student in Information Science with a concentration in Linguistics. Kristy has a BS in Computer Science and an MS in Interdisciplinary Studies with a focus in Computational Linguistics. Kristy's research focuses on building computational tools for low-resource languages and bias in machine learning.
March 9, 2022 at 10:00 a.m. (CST) - Mike Widener
Speaker: Mike Widener, U.S. Advisor for Bibliopathos
Topic: The Joys and Challenges of Working in Special Collections
Abstract: University of Texas MLIS alumnus, Mike Widener will take you on a journey along his career path while highlighting career options in the field, training opportunities, and experience being a member of library search committees. This discussion will help current and future librarians attain awareness of opportunities in the field and provide advice on how to land them.
Bio: Mike Widener served as the Rare Book Librarian in the Lillian Goldman Law Library, Yale Law School, for fifteen years until his retirement in April 2021. He is currently the US Advisor for Bibliopathos, a rare book dealer based in Verona, Italy. He previously spent fifteen years as Head of Special Collections at the Tarlton Law Library, University of Texas at Austin, School of Law. Since 2010 he has taught a week-long summer class, "Law Books: History and Connoisseurship," in the Rare Book School at the University of Virginia. He is co-author (with Mark S. Weiner) of Law's Picture Books: The Yale Law Library Collection (Talbot Publishing, 2017), the catalogue of a major exhibition at the Grolier Club, which won the 2018 Joseph L. Andrews Legal Literature Award from the American Association of Law Libraries. He edited and contributed to Public Services Issues with Rare and Archival Law Materials (Haworth Press, 2001). He has been a consultant to the law libraries at Texas Tech University and St. Mary's University on their rare book collections, and with his wife, Emma Molina Widener, to the law libraries at the University of Adelaide, the University of Wyoming, and the Universidad Nacional Autónoma de México. He was the 2012–13 Chair of the Legal History & Rare Books Special Interest Section, American Association of Law Libraries.
February 10, 2022 at 2:00 p.m. (CST) - Betsy C. Montañez
Speaker: Betsy C. Montañez, US Campus Recruiter within FDM's US University Partnerships
Topic: Bringing People & Technology Together
Abstract:
Ready to kick start your career in tech? As a student on your way to graduation, we want to give you a platform to spread the word about what you can do. With a dedicated purpose to create and inspire exciting careers that shape our digital future, FDM Group is here to pave the way for you to make the jump from university to the professional technology workplace.

In this session, participants will have the opportunity to hear more about FDM's Career Development Program. Through award-winning business and technical training and experiences working with our industry-leading clients, participants will walk away from this session understanding what it takes to become a FDM consultant, how to navigate the application and interview process, and learn more about what it takes to stay competitive in the applicant pool.
Bio: Betsy C. Montañez has over fifteen years of recruiting, career counseling, and Veterans Affairs experience. She brings her passion for matching students and transitioning veterans into successful careers into her current role as the University Partnerships Manager for the FDM Group where she manages the recruitment initiatives for the US.
---
January 26, 2022 at 10:00 a.m. (CST) - Shad Griffin
Speaker: Shad Griffin Data Scientist at IBM
Topic: Building AI that is Fair, Transparent, and Trustworthy
Abstract:
Artificial Intelligence impacts modern life every day. Applying for a loan, contacting your utility company, or driving a newer model car means interacting with AI. Each day AI transforms the way we live and interact with each other.
As data scientists, we create AI. The power to develop AI comes with a tremendous responsibility to ensure that our AI processes meet the goals of our organizations and the values of society. The AI we create impacts real people living real lives.
There is no single, simple way to make ethical AI processes. There are, however, a few tools in the toolbox that enable data scientists to create AI that is fair, transparent, and trustworthy. This presentation is about these tools.
Bio:
Shad Griffin is an Open Group Certified Distinguished Data Science. He currently works at IBM as a Data Scientist supporting a large Healthcare client. Before his current role, Shad held multiple Data Science roles in numerous industries including, Media, Telecommunications, Chemicals, Petroleum, Retail, and Manufacturing. Before IBM, Shad led the Data Science activities at Verizon Business Unit headquartered in Dallas, Texas.
Shad has an MS in Economic Research from the University of North Texas. He is a long-time resident of Denton, Texas, where he lives with his wife, two children, three dogs, and a geriatric cat.
---
2021
October 19, 2021 - Lola Obamehinti
Speaker: Lola Obamehinti, Cybersecurity Professional and Technology Communications Leader
Topic: Cybersecurity Career Opportunities
Abstract:
Whenever people think of cybersecurity they usually think of a hacker who relies on coding to break into a computer network. However, there are other job roles in the cybersecurity field. On October 19, learn more about the different domains in cybersecurity and how various academic majors are all applicable and useful for working in security.
Bio:
Lola Obamehinti has a background in journalism and technology, so she is able to expertly communicate complex, technical information to various audiences. She graduated with a BA in Journalism from SMU and obtained an MS in Information Science from UNT in 2017. Currently, Lola is the Global Information Security Training & Communications Lead and a Business Ethics Officer at eBay. She is also the Founder of Nigerian Techie and the Founder of the Tech with Style club on Clubhouse where she hosts daily discussions about tech, culture and current events as well as manage the club's online community of over 1,400 members. Additionally, she is a freelance TV Host and keynote speaker who specializes in discussing travel, finance and technology topics. Some of the media outlets she has been featured in are The Wall Street Journal, Yahoo Finance, Salesforce Trailhead LIVE, Silicon Valley Business Journal, and Cybercrime Magazine. She is also passionate about creating opportunities for historically excluded individuals in the tech industry.
---
September 21, 2021 - Noah Wittman
Speaker: Noah Wittman, Co-Founder, Cloudabo and Senior Enterprise Account Executive, Redis
Topic: B2B tech Sales and My Experience as an Entrepreneur
Abstract:
What does it mean to have a career in sales? This is a question that will get many different answers, depending on who you ask. For many people, the image of "cold-calling" or even going door to door is the first image they have. While both of these things are true in the very broad world of sales, Business to Business software sales (B2B) can be a lucrative career that often looks more like consulting than the door to door salesman.
Starting a software business has been mostly glamorized thanks to popular media like The Social Network, Silicon Valley, etc, not to mention the epic tales of founders like Steve Jobs and Bill Gates. But what does it really take to be successful as a software startup? What happens to the 90%+ that fail?
Bio:
Noah has spent the last 10 years in B2B technology sales, generating revenue of over $5M across categories including Cloud, CRM, Databases, & Data Visualization. Noah is also a successful entrepreneur having previously bootstrapped an e-commerce startup and currently working as co-founder of Cloudabo. A two-time UNT alumnus, he completed his MBA Cum Laude in 2011. In his spare time Noah enjoys writing and recording music, as well as traveling around the country in their travel trailer with his wife Sara and their dog, Prince.
2020
October 21, 2020 - Dr. Whitney Kilgore
Dr. Whitney Kilgore is a College of Information graduate who started a company called iDesign based in Dallas.

Excerpt from iDesign About Us:
iDesign partners with universities to build, grow, and support online and blended course and program offerings. We are passionate about serving faculty and designing engaging learner experiences that unlock the potential of instructional technology.
iDesign was created to offer a sustainable and mission-compatible service option for universities interested in online and blended programs. The landscape of higher education is changing rapidly due to the proliferation of instructional technology and growing concern over the value proposition for students. Universities need trusted partners to help them navigate these complex and increasingly competitive waters. The incumbent service model – the bundled revenue share – asked universities to relinquish control and half (or more) of tuition revenue. This model is not sustainable, as it incentivizes scale over student outcomes and institutional mission. iDesign offers an alternative: the unbundled, fee-for-service approach with a focus on serving faculty and students.
January 29, 2020 - Day of Data Science
General Administration Building (GAB) Room105 and Union Room 385 Discussion Room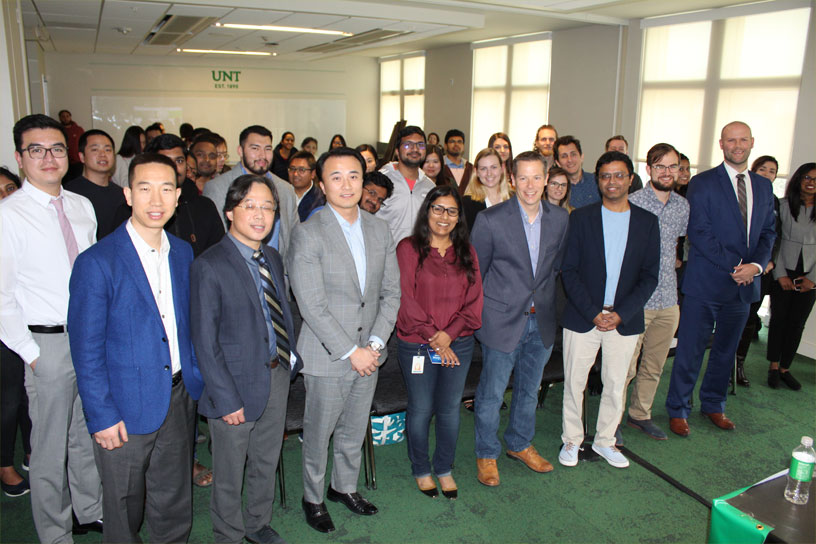 The panelists at the event included:
Jim Ashley, Senior Vice President of Information Services, Ben E. Keith
Alfred Essa, VP of Analytics and Data Science at Macmillan Learning
Seemit Sheth, Senior Director, Head of Data Science, Capital One Banking and Finance
Michael Talley, Economic Development Director, Denton County Management and Government
Ravi Vadapalli, Senior Director IT Services at UNT
CODE Series Day of Data Science:
The amount of careers available in Data Science currently outpace the number of people needed to fill them. According to Indeed.com the average salary for Data Scientists is $122,885. In an effort to highlight the current Data Science students, Department of Information Science Department faculty member Dr. Jinhua Ding sought a C.O.D.E Series event called a Day of Data Science.
In 2018, the Career Opportunities, Directions, and Exploration (C.O.D.E) Series began as a collaboration between the college, the departments, and the career center. At the center of C.O.D.E events are COI students, looking to establish career directions as they plan their degree and perspective students interested in COI degrees or how our programs intersect with their fields of study. The morning session included lectures on use of Data Science from the following companies invited to participate, Ben E. Keith, Capital One and Denton County Economic Development. The afternoon session included two panel discussions, the first on Financing and Information Technology, the second panel on Data Science for Management and Computing and Advanced Data Analytics at UNT.
The companies were also invited to visit with students and learn their about their current research projects in a poster room.
Large Teams or Small Teams Building Disruptive Software in Science and Technology? - Ramakrishna Sasank T
SemOIR: An Ontology based semantic information retrieval system - Mingwei Tang
Diversifying Citation Contexts in Academic Literature for Knowledge Recommendation - Haihua Chen
MDLDA: A New Multi-Dimension Topic Approach - Juncheng Ding
Deep Learning Text Summarization - George Mihaila
Modeling and Predicting Evacuation Flows during Hurricanes - Lingzi Hong
Knowledge Graph (KG): Unwrapping the secrets with semantics - Mayuri Magdum
How #MeToo Became A Worldwide Movement - Xinchen Yu
Understanding Information Resources for College Student Mental Health: A Knowledge Graph Approach - Xiaoyu Zhang
Fine-tuning Pre-trained Contextual Embeddings for Citation Content Analysis in Scholarly Publications - Huyen Nguyen
Domain Concepts or Pre-trained Embeddings? Exploration of Legal Text Classification - Haihua Chen

Machine Learning and Complexity theory approaches in modeling information seeking behavior of Data Science Employers - Sahar Behpour

Review of Application Layer DDoS Literature - Jonah Turner

Connective power of the twitter networks: Discovering the reverse agenda‐setting effects of hashtag activism through topic modeling - Mi Young

REU Program Flyer - Junhua Ding
2019
April 18, 2019 - Career Panel: Linguistics Professions
Location: 12:00 - 2:00 p.m., Chestnut Hall, Room 120


Panelists: Nick Gaylord (remote), Michael Mugo, Lisa Jeon, and Kevin Hawkins.
The event was moderated by Patricia Cukor-Avila. The series, known as C.O.D.E. (Career Opportunities, Directions, and Exploration) is a collaboration between the college, the departments, and the career center.
The goal of the event is to serve our target audiences of COI students looking to establish career directions as they plan their degree. The purpose is also to inspire prospective students interested in COI degrees by demonstrating how our programs intersect with their fields of study. Several topics came up in the discussion including data science, natural language processing, information retrieval and the need for Linguistics to be able to deal with unstructured data.

The areas our panelists study or work in include:
- Sociolinguistics
- Language teaching pedagogy
- Computational linguistics
- Linguistics subject librarianship
- Editing and consulting
- Psycholinguistics
- The relationship between data science and linguistics
February 20, 2019 - Inaugural Career Panel: Library and Information Science Professions
Location: LT Agora, Discovery Park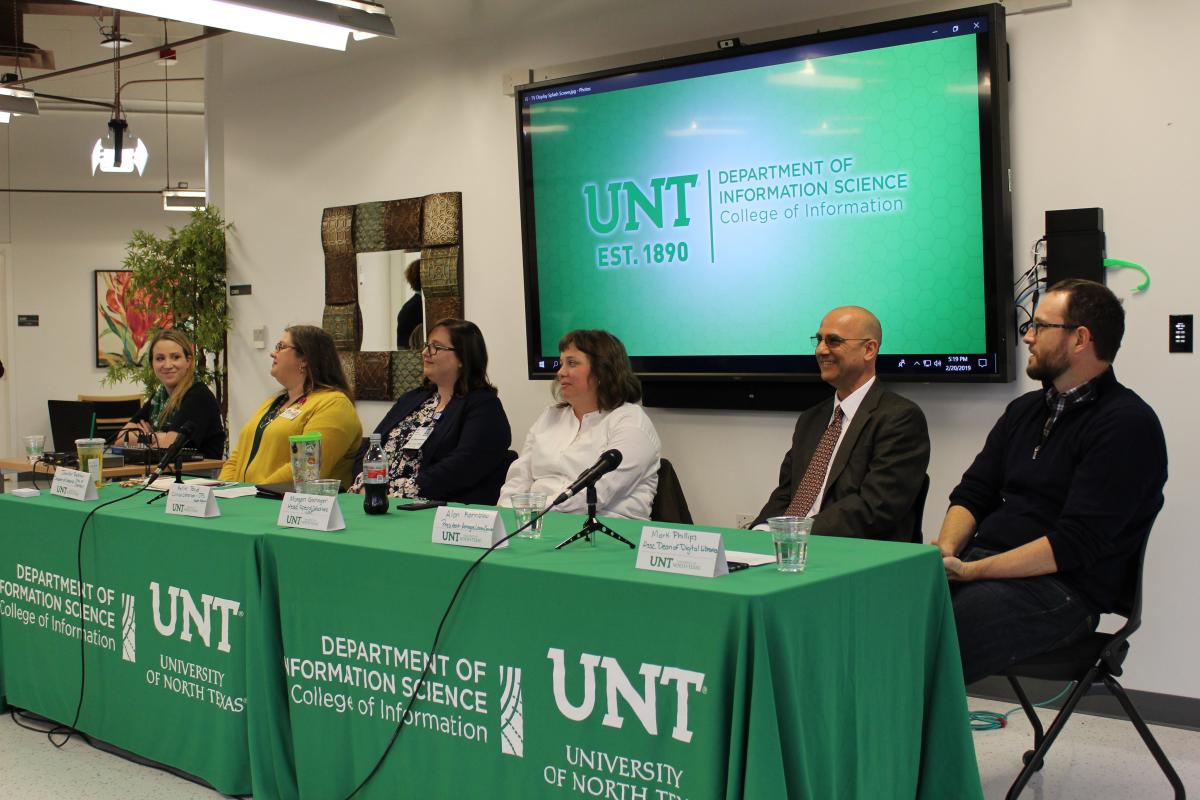 The panel consisted of 5 Library & Information Science professionals from academic libraries, health libraries, and public libraries. The panelists at the event included:
Jennifer Bekker, Director of Libraries – Denton Public Library
Kellie Boyd, Clinical Librarian, UNT Health Science Center
Morgan Gieringer, Head, Special Collections, UNT Libraries
Alan Kornblau, President and CEO, Amigos Library Services
Mark Phillips, Associate Dean for UNT Digital Libraries
Panelists provided their responses to questions from students in the audience and those joining the conversation online via Zoom, as well as prepared questions from the moderator. Discussion and input centered around ways in which students can enhance their preparation for future careers, organizations that students can join in order to improve their networking reach, and some of the key characteristics, knowledge and tools that may be useful for the library and information field. Panelists were candid, and shared interesting stories about their paths to their chosen profession, and some information about what their jobs entailed.
Related article: UNTIS students receive career insight and advice at College C.O.D.E Career Panel Series