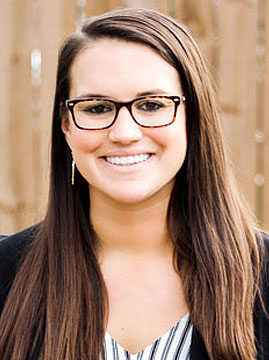 Jenna Conan Simpson '22
Doctorate in Learning Technologies

As a lifelong learner, Jenna Conan Simpson enjoys school and loves learning new things and is no stranger to scholarly excellence or managing multiple responsibilities. She is earning a Doctorate in Learning Technologies and will finish with a 4.0 GPA. She received two merit scholarships from UNT's College of Information while in the program, facilitated over 20 presentations at conferences — including the International Society for Technology in Education (ISTE) and the Texas Computer Education Association (TCEA) — and published six articles and chapters in journals and eBooks in the past two and a half years.
The Portland, Oregon, native first decided she wanted to get a Ph.D. during her master's degree commencement. And since she already worked in education, she felt a Ph.D. would enable her to take her career to the next level. As she listened to the doctoral candidates discussing their research prior to the ceremony, she knew it was a high honor she wanted. Before the start of her final semester, Jenna welcomed her daughter Sophie into the world and learned the value of time management, balance, and the importance of having a support system as she began commuting to campus with the baby. Sophie started refusing a bottle, so Jenna brought the baby along to nurse her, it was certainly a challenge, but Jenna made it work.
She was a new mom and working reduced hours while continuing the rest of her courses, so Jenna had to shift her childcare plans to be able to attend classes to ensure Sophie was able to eat. Jenna's husband and sometimes her mom made the hour-plus drive to Denton from Fort Worth to entertain the baby during Jenna's three-hour class. As the rigors of Jenna's course began to pick up, Jenna leaned on her support system even more.
"I wouldn't say I considered giving up, but I did think about postponing my courses to a later time. I persevered partly for my career and partly for my daughter" Jenna says. Even though her baby will not remember this experience, Jenna hopes to share about persevering in pursuit of a dream.
She is currently the Director of Instructional Technology at All Saints Episcopal School, the largest private school in Fort Worth. She is also excited to work with ISTE and the United States Department of Education on research for their Digital Equity and Transformation pledge. Her goal is to help prepare pre-service teachers to use classroom technology, which was the topic of her dissertation. In the future, her dream is to consult Colleges of Education about improving their pre-service teacher preparation to teach with technology and to pursue ongoing learning.
"My Ph.D. in Learning Technologies from UNT, dissertation research and the opportunities that have developed through my program and research have set me up well to realistically achieve this goal in the future!"