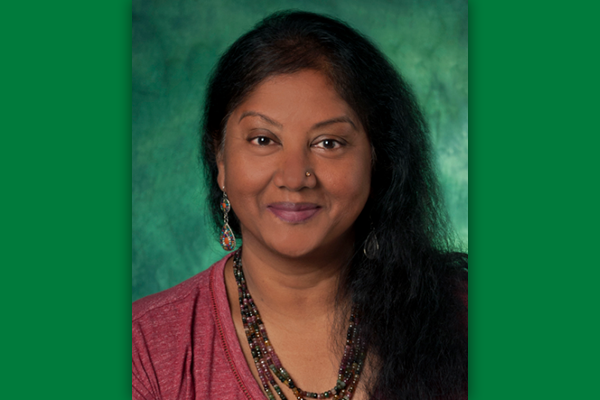 Dr. Shobhana Chelliah to take fall sabbatical as she's named a Fulbright-Nehru Fellow. The Fulbright-Nehru fellowship will require her full attention despite a brief delay in travel due to the Covid-19 pandemic. Chelliah currently serves at the Associate Dean of Research and Development, while being an active faculty member in the Linguistics department. This fellowship, considered highly competitive and only two are given each year.

Chelliah's proposal titled, Collaborative Digital Language Archiving for Documenting the Languages of India. It requires her to combine both teaching and research for this fellowship. According to Chelliah, this project will investigate a method of collection and custodial archiving that integrates training in language documentation and the creation of archival-quality collections.

"We have pivoted by creating an online platform for teaching that curriculum. And I will be doing that through webinars, hopefully, for this semester. When I do get to India, in April, which is when I plan to use the Fulbright, then I would follow-up with the groups from the webinars in the fall," says Chelliah.

Once in India, she will collaborate language archiving curriculum and lecturing as she travels around the country.

"India is a land of extreme linguistic diversity. Much of the cultural and linguistic information in these languages will be lost forever unless they are documented, and the results archived. If we don't preserve that information right now, we won't have that knowledge to understand more about those languages," says Chelliah.

Fulbright requires all 2020-2021, fellows to finish their project by the beginning of the following fall semester. Chelliah expects the delay from the pandemic will improve the project as it gives her more time to prepare. She hopes to spend four months in the spring pursuing the project.

Chelliah's goal will be to create a resource of these languages that is user friendly, preserves the languages for the future in digital formats, and is stored in a stable place where they can be accessed.

"Allowing communities to access information about their heritage, which is important for the stability of the community and societal good," says Chelliah.

The project builds long-lasting bonds between India and the United States as this replicable methodology can be used over the years to build up sister archives at national and regional archives in India and the University of North Texas.

The UNT Digital Library will partner with the Department of Linguistics to house and create the platform for the resource. The library is also home to Chelliah research from the Computational Resource for South Asian Languages (CORSAL).