Date & Time:
Monday, April 16, 2018 -

3:00pm

to

5:30pm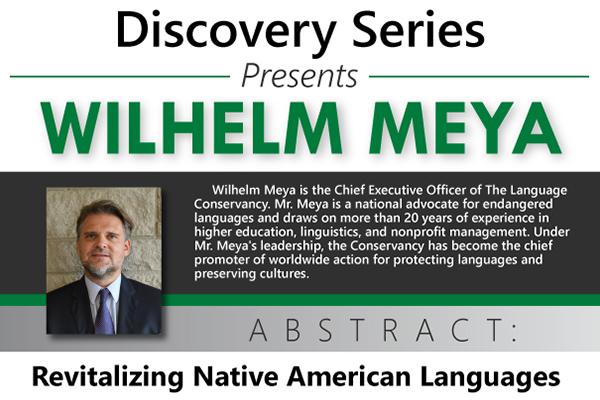 Discovery Series Presents:
Wilhelm Meya is the Chief Executive Officer of the Language Conservancy. He will talk about efforts to create pedagogical language materials and enhance literacy for Native American communities. A panel discussion on enhancing language learning with technology will follow. We hope you can participate in this discussion!
Panelists bios:
Cathie Norris: Cathie Norris is a Regents Professor in the College of Information, Department of Learning Technologies at the University of North Texas. Cathie's 14 years in K-12 classrooms – and receiving Dallas' Golden Apple Award – has shaped her university research agenda: helping K-12 teachers move from the 19th century into the 21st century. Cathie has been President of the International Society for Technology in Education (ISTE), the leading international organization for technology-minded educators, and the President of the National Educational Computing Association (NECA), the association that organized NECC, the premier conference on technology in K-12. She and her collaborator Elliot Soloway are guided by the mission that to achieve educational parity we must harness the power of mobile, hand-held, low cost, networked technologies. They recently presented at a UNESCO forum Building Peace in the minds of men and women on barriers to scaling up mobile learning in classrooms globally.
Scott Warren: Scott Warren is Professor in Learning Technologies at UNT's College of Information. His interests include the use of existing and emerging technologies to improve student literacy, motivation to learn, achievement, and positive experiences with school, especially in K-16 settings. Research interests include studying the use of technologies such as digital learning environments, off-the-shelf and designed games and simulations, and instances where these intersect with more traditional, non-digital curricular materials such as text books, literature, and oral storytelling, and teacher preparation for the use of each.
Xian Zhang: Xian Zhang is an Assistant Professor in Linguistics at UNT's College of Information. His research is in second language acquisition research and practice and is strongly influenced by Sociocultural Theory and looks at evaluation, language processing, neural representation, learning motivation, metacognition, and affect. His research appears in journals such as Applied Linguistics, Language Learning, Modern Language Journal, and System.
Alissa Ward: Alissa is a Choctaw tribal member. Her ancestors were trail of tears survivors and went on to be ranchers, business owners, writers and leaders in their community. Alissa caries on the legacy and is working on her first Young Adult Fiction trilogy, where she uses the great stories passed down from her Choctaw tribe as inspiration. She is here today to talk about how the Choctaw tribe works to keep their language alive.
Background Reading: https://scholarspace.manoa.hawaii.edu/bitstream/handle/10125/24669/hieber.pdf