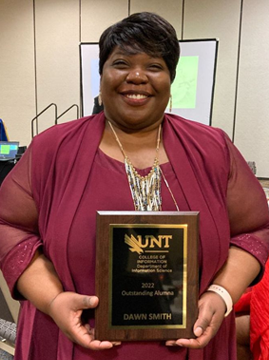 2022 Outstanding Alumni Award recipient: Dawn Smith, Head of Acquisitions, Lillian Goldman Library, Yale Law School

We caught up with Dawn after the Department of Information Science Alumni and Friends Dinner to get her reaction to the award:

Dawn graduated from the M.S. Library Science program in 2005. At that time, her program was hybrid, which afforded the opportunity to work. She also had two internships during her time in the program, one at an advertising agency and one at Texas Wesleyan Law School. She says that the program gave her exposure to many types of libraries- medical, law, special, and public, which helped her pinpoint her career options and helped her connect with a community of information professionals, helping to launch and grow her career.

Currently, at Yale Law School, Dawn is the in charge of all acquisitions, both physical and electronic materials, supervises a team of 5 full time staff, acts as Collection Manger and provides technical services.
Dawn was honored with the Outstanding Alumni Award due to her support for both the UNT Information Science Department and the profession of library science. She says that on a human level, she has worked toward helping others find their success through mentoring, participated in many professional organizations through committee work and is a member of the Black Caucus of AALL, active in the Black Law Librarianship special intersection, and she has built networks of community members to share time, treasure, and knowledge.

Congratulations, Dawn! We are proud of all your accomplishments.