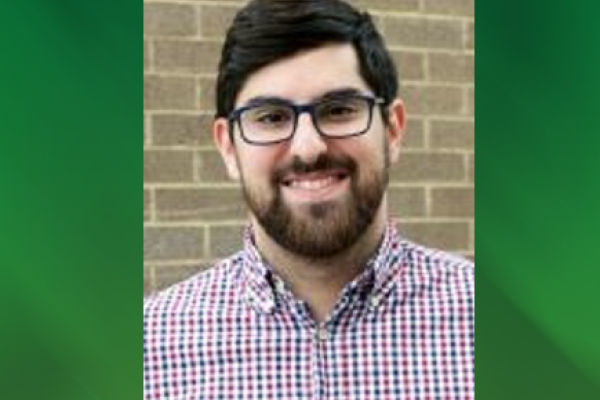 When alumnus Chris Morphew (BA Linguistics with a minor in Italian 2012/MA Linguistics 2014 with TESOL certificate) is asked about Dr. Haj Ross, his memories are that Haj taught him to love language, to look at the big picture and find ways to break language apart, to think critically, and to take risks. Chris credits Dr. Haj Ross and others in the Linguistics department with opening his mind to risk taking, to doing what he wanted to do, and to experiencing the world in new ways.

While finishing his master's degree, Chris worked at the Intensive English Language Institute on UNT campus, where a lot of Linguistics majors get their observation time and practical experience with paid teaching in the lab classes. When he graduated, he was hired to teach both Communication and Writing classes, which he did for three years. During that time, he also served as a mentor to new teachers, developed assessments, and created supplemental teaching materials. The interviewer was lucky to have crossed paths with him there.

In 2016, Chris moved to Maryland with his wife and started teaching at Howard Community College, where he moved up to Program Support Coordinator and Academic Support Coordinator. Recently, he has taken on the title of World Languages and Academic Support Coordinator. He says that with his Linguistics education, the college considered him an expert and gave him increasing responsibility and opportunities to move up right away. He enjoys his job managing programs for the local community members, immigrants and refugees, and international students. He helps coordinate around 60 faculty members teaching classes from intensive English to survival English to world languages that people might want to brush up on before a trip abroad. He also enjoys living with his wife and one and a half-year-old son in the diverse community of Columbia Maryland, where the community members take life-long education and learning to heart.

He is reminded again of Haj Ross at this moment and says, "Haj taught me to play with language. He was always astounded by what students could teach him. He loved learning from us as much as teaching us. He told us to learn by trying stuff. He would say, 'Let's poke at it and see what happens.' My own risk taking and life skills developed during this time having Dr. Ross as a model for learning. I became a better ESL teacher since I wasn't afraid to try new things in the classroom."

Chris also remembers his classes with Dr. Montler, Dr. Munshi, and Dr. Cukor-Avila. He learned critical thinking skills, field methods, morphology, language analysis, and learned to look at languages from a holistic approach. He says that due to what he learned in Linguistics, he took risks, studying abroad in Italy and traveling to Africa with campus ministry. He learned to embrace change and objectively accept it even if he didn't have to subjectively like it.

"No topic was ever off limits in Haj's class," Chris remembers. "He taught us our ideas were valid, and he said he was inspired by us. That feeling of validation helped me grow. I learned to look around and examine the beauty of language."

As the interviewer, I could have reminisced with Chris for the rest of the day for I had been on the same path before him having graduated from the Linguistics department in 1998, having taken three classes with Dr. Haj Ross, and having worked as an instructor at UNT's IELI. However, as Linguists, we both had work to do, and as usual, language would be overlaying everything we did. We signed off as we both looked back on our good times, our interestingly similar paths, and our good fortune to have been in the UNT Linguistics program and to have studied under Dr. Haj Ross before he retired.