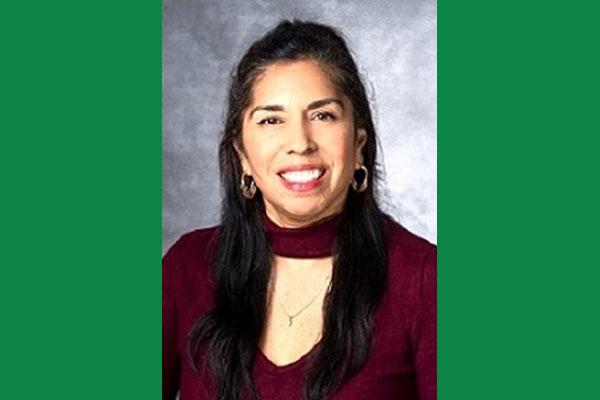 Thursday, December 16, 2021
When she started graduate school, Adela Justice, AHIP, was a reserved person, but Dr. Yvonne Chandler brought her out of her shell. Adela gigged as a violist with the Denton Community Orchestra while finishing her B.A. in music at UNT. But when a hand injury sidelined her music career, she had to find a plan B. "That's when my mom sent me a newspaper article about the information superhighway," she recalls. So, Adela took a chance on information science at UNT. She applied for graduate work-study and received a teaching assistantship with Dr. Chandler.
"My first impression of Dr. Chandler was that she was all business. She was ordering me around," Adela laughs as she reminisces. But as Adela got to know Dr. Chandler, her impression changed. In reality, Dr. Chandler was "larger than life and fun," according to Adela. One time, Adela was grading index cards that Dr. Chandler's reference class had created during a library scavenger hunt. "They all had stickers on them. Birds. All kinds of things," Adela recalls. It turned out that Dr. Chandler asked the students to put stickers on the cards to entertain Adela as she graded. Dr. Chandler entertained Adela too. When she and Adela had to work weekends, Dr. Chandler made pancakes. And the two took trips to Dallas to shop at the Galleria. Those experiences—and Dr. Chandler's love of gouda cheese—broadened Adela's worldview. Dr. Chandler also gave Adela the space to discover her passion for health librarianship.
At the start of her master's program, Adela thought she was not interested in Dr. Chandler's fields: law librarianship and government documents. Dr. Chandler didn't mind or pressure her. "She let me live my life and figure out what I wanted," Adela explains. As Adela's graduation approached, it was Dr. Ana Cleveland's turn to be all business. "Adelita," she asked, "where do you want to work?" When Adela told Dr. Cleveland she wanted to return to Houston, Dr. Cleveland began making phone calls. Dr. Chandler helped Adela prepare her job presentation.
Adela is now a Senior Librarian at MD Anderson Cancer Center, a distinguished member of the Academy of Health Information Professionals, a leader in the Medical Library Association, a scholar and mentor. As she looks to the future, she shares a passion of Dr. Chandler's: diversity in the LIS profession.
According to Adela, several factors drive away diverse candidates, including master's degrees for entry-level library job requirements and low starting salaries, to name a few. Adela adds, "how do you entice people of color to librarianship when they often come from a wealth gap created by our society?" She contends that information organizations have the resources to pay employees and interns more. Adela encourages her MLA and AHIP mentees, particularly the women, to negotiate higher salaries. Adela also sees diversity amongst the faculty as crucial for expanding the field. Having Dr. Chandler and Dr. Cleveland as her professors, Adela explains, helped her to envision herself as a leader in the profession.
As Adela continues her distinguished career, she is grateful for her time with Drs. Chandler, Cleveland, and others. "I am proud to be their student, to be their product, to be from North Texas," she offers. "I have a lot of gratitude."
Learn more about Dr. Chandler and the opportunity to support future librarians through The Yvonne J. Chandler Endowed Scholarship at https://one.unt.edu/Yvonne-Chandler